Solar Pumping System Structure
Solar pumping system mainly consists of PV modules, solar pumping inverter/controller and pumps.
Solar Module:Generate electricity
Solar pumping inverter/controller:Converter solar energy to support the pumps; control and run the pumping system by making full use the solar energy.
Pump:Raises water or other fluids
Other components
Mounting Bracket: Fix the solar panels
Junction box: combination of DC fuse, DC circuit-breaker and other components to protect the solar module
Outdoor Cabinet: IP54, waterproof for outdoor installation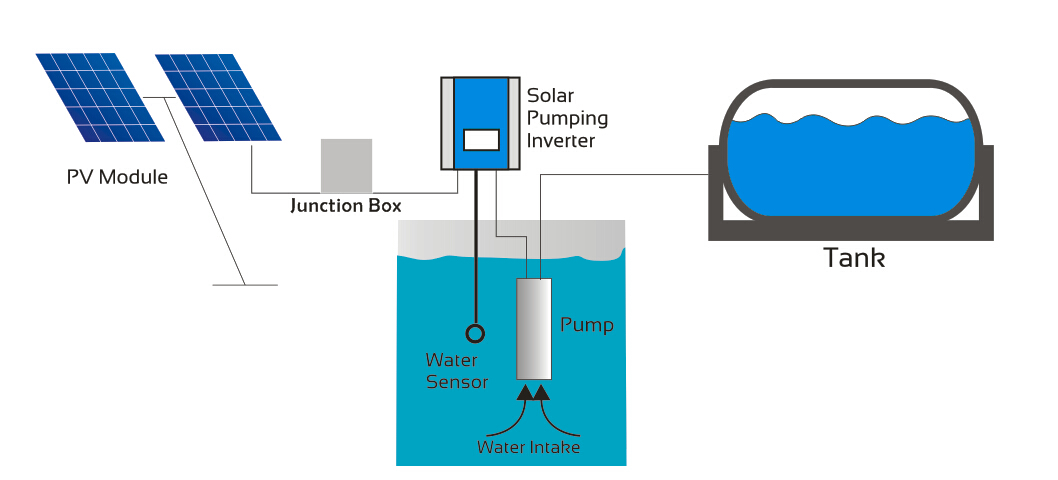 Principle of Operation
The PV modules supply electricity to inverter.
The inverter converts DC into AC to drive pump according to the intensity of sunshine.
Advantage of Solar Pumping System
1:Auto-operation, labor free
2:Suitable to all kinds of pumps, including three-phase AC pumps,single-phase AC pumps and DC pumps
3:Wide range of input voltage, suitable to different PV modules Modular design, easy to maintain International advanced components, safe and reliable
4:Solar and mains power hybrid, 24 hours operation Remote control and monitor Customized solutions
Size Guiding for Solar Pumping System
Step 1:

Find the suitable series according to required daily

flow rate from sizing table.

Step2:

Find the system model according to required pump

head from catalogue.

Step3:

Contact MNE to get product technical parameters.